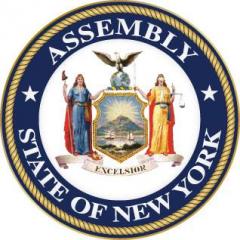 FOR IMMEDIATE RELEASE:
June 20, 2018
Assembly Passes Brianna's Law to Improve Boating Safety
Assembly Speaker Carl Heastie and Assemblymember Kimberly Jean-Pierre announced the passage of legislation to strengthen boating safety by requiring all individuals who operate a boat on the state's waterways to complete a boating safety course.
"New York is home to some of the most scenic and popular waterways in the region," said Heastie. "It is important that we ensure the safety of the boating public and their passengers by requiring operators to know and obey the navigation laws and related safety procedures."
"I am proud to sponsor this legislation to ensure that New Yorkers are equipped with the knowledge they need to safely enjoy our beautiful waterways," said Assemblymember Jean-Pierre. "While there is a lot one can learn from spending time on the waters and aboard vessels, it is critical to strengthen that knowledge with formal instruction to avoid preventable tragedies."
The legislation would require any individual who operates a mechanically propelled vessel along the navigable waters of the state, regardless of age or length of boat ownership, to have completed a boating safety course approved by the commissioner of the Office of Parks, Recreation and Historic Preservation.
There are approximately 450,000 registered powerboats in New York. Under current law, new boat owners are exempt from the requirement to complete a safety course for up to 120 days after the purchase of a vessel. Additionally, the requirement only applies for operators born after May, 1 1996. As the majority of boat owners in the state are much older, this has created a sizeable gap in the number of boaters who have received this important instruction. The course provides training on boat handling, use of navigation instruments and floatation devices, as well as relevant state laws concerning boating operation and safety. In 2005, Brianna Lieneck was fatally injured in a boating collision off the coast of Long Island that also injured other members of her family. This legislation will reduce the number of boating accidents and injuries on the state's waterways.
New York State Assembly